Gain is a board game and app designed to teach players to invest their money wisely. 
This client project was done for a major Pittsburgh bank, with my teammates, Alisa Le and Sharon Yu. While we worked together on all parts of the ecosystem, I played a large role in research, concept development, and visual design.
Investing is one of the best ways to build wealth, but customers miss out  because they think it's only for wealthy people.
As a college student, I had a lot to learn on this topic. My team and I dove into the world of investing, and like many customers, we were intimidated at first by its complexity, jargon, and sheer number of options.
While the client provided this problem, past research and personas, we set out to synthesize and validate their findings, and conduct our own research to fill in the gaps.

It turns out, investing is a great opportunity to build wealth and beat inflation. Those less financially literate miss out because they believe they're not wealthy enough, or because it's too complicated. Down the line, this can contribute to a larger divide between the rich and the poor, but that's another story...
How might we empower customers to confidently invest based on their circumstances and goals?
Customers vary greatly in age, investing experience, and financial literacy. How might we lower the barrier of entry, while accommodating such a wide range of people?
Through synthesizing the research, we found that the best way for people learn such heavy and emotional material, would be to simulate it in a low-stakes, low-pressure environment. We conducted a thorough literature review, and read up on experiential learning, gamification, and the psychology behind money management and investing. We even tested out and reviewed some educational games!
We created Gain, a game designed to teach players how to invest their money wisely.
How it works
Players connect their phones to the game board, and get a brief rundown of the rules. Sensors on the board and pieces connect to the app allow players to seamlessly transition from the physical game to the digital app. Below you'll find the onboarding flow and game instructions.

Objective: Achieve your dreams.
The game asks the player to pick dreams with varying prices, and place them on a physical dashboard as a constant reminder to complete them.
Players' only chance at achieving their dreams is investing in stocks, mutual funds, bonds, IRA, or a 529 plan. Through experiencing the consequences of their actions, players learn the benefits of different investment options.
Players learn by managing their own finances and reflecting on their experience.
Players can refer to information about investment types any time. They can also check up on the market value of their investments so they can decide when to sell them or buy more.
The app sends struggling players pointers to keep them on track. It also prompts players to reflect on their game play. This makes gives players the opportunity to learn for their mistakes and successes.

Everyone is a winner! Well, almost.
Players that achieve their dreams win the game. Of course, everyone who had fun, and leaves feeling empowered to invest wins too!
​​​​​​​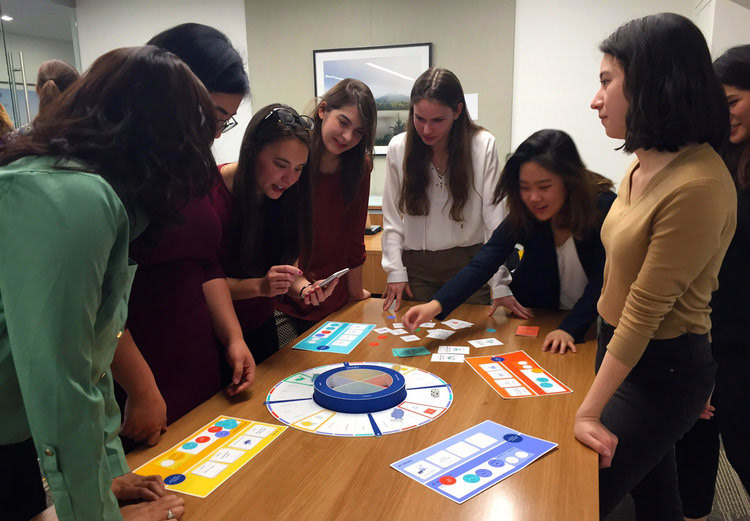 A note on voice and visual design
Because of the (let's face it) dry subject matter, we decided on a playful tone for Gain's voice and visual design. While we needed to simulate life, and clearly teach players about investing, we wanted to keep the environment light and low-stakes so players wouldn't be afraid to make take risks or make mistakes. We created some silly scenarios for the Needs cards, Chance cards, and Dream cards. We chose a bright color pallet and graphic illustration style to keep players excited and entertained. We used the typefaces Din and Apercu, which are similar to the fonts the client already uses across their products. Below you can get a closer look at the cards, tokens, and game pieces.